Visualization of Dynamics CRM data on a map enables user to perform analysis of their data effectively. Plot Related Records feature introduced in the Jan Release of Maplytics has provided users the ability to perform in-depth analysis of a particular record on a map within Dynamics CRM/365.
Previously, Maplytics provided the option to visualize where the individual CRM record is placed on the world map to give you a geographical sense of location on the CRM record itself! To enable even better visualization of Dynamics CRM/365 data, Maplytics Jan 2017 release has extended the Plot Related Record feature to individual maps as well. Maplytics now supports the ability to visualize related relationships or one-to-many relationships, as we usually call it, of a particular record on the individual map of the respective entity record!
Suppose a user needs to plot the related addresses of a particular account on the map of a record for analysis. Now with Maplytics this can be done effortlessly enabling better visualization and in-depth analysis of a record without leaving the entity record!
Users can further use Relation option to plot multiple related relationships.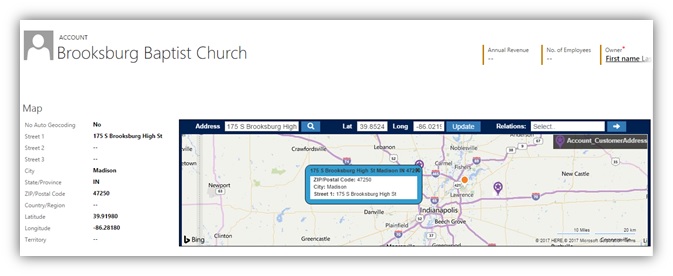 Follow the steps mentioned below to configure Related Relationships on Dynamics CRM/365 Records using Maplytics:
Navigate to Setting > Entity Map > Select Required Entity > Related Records Configuration
Select desired relationship(s) to be plotted on map
Use  following button to make a particular relationship as default relationship. Default relationship will get auto-plotted on map whenever user accesses that Dynamics CRM/365 entity record.
Click on Save button on the "Plot Related Relationship List" grid as shown below:

Note:  If the entities do not have any defined relation between them then it is necessary to define the relationship first.
Conclusion:
With Maplytics, users now have the ability to visualize related relationships on the individual map on the entity record within Dynamics CRM/365. This enable users to have enhanced insights about their Dynamics CRM/365 data for better decision making!