While working on your customer's data within Dynamics 365 or PowerApps, Maplytics presents your data with geographical details on a map. Maplytics, Preferred Solution on Microsoft AppSource, has a powerful arsenal of features like Proximity Search, Auto Scheduling, Heat Map, Territory Management, and much more. These features help organizations belonging to various industries understand the geographical presence of their CRM data and therefore analyze it better.
Maplytics empowers the organization's decision-makers to be well informed about their current situation regarding its customers as well as markets. This allows them to create effective strategies to execute their processes better and ultimately meet their company goals.
Along with Maplytics providing a variety of helpful features that can be used by a member belonging to any profile or department within an organization, it also provides the ability to manage the provision of Maplytics actions to the Maplytics users.
Using the feature of Maplytics Security Template, admins can provide selective access of Maplytics actions to Maplytics users as per their respective requirements. This makes sure that the Maplytics users assigned with a security template will only be able to see and use those features which have been enabled in the template assigned to them.
In our earlier blog, we saw how to create a security template and assign the template to the users of Maplytics. In our upcoming Maplytics release, admins will now be able to assign multiple users at once by adding the whole team to a security template. They can either add or remove a team or a user from a security template with the ability to 'Manage Users' added in this latest release.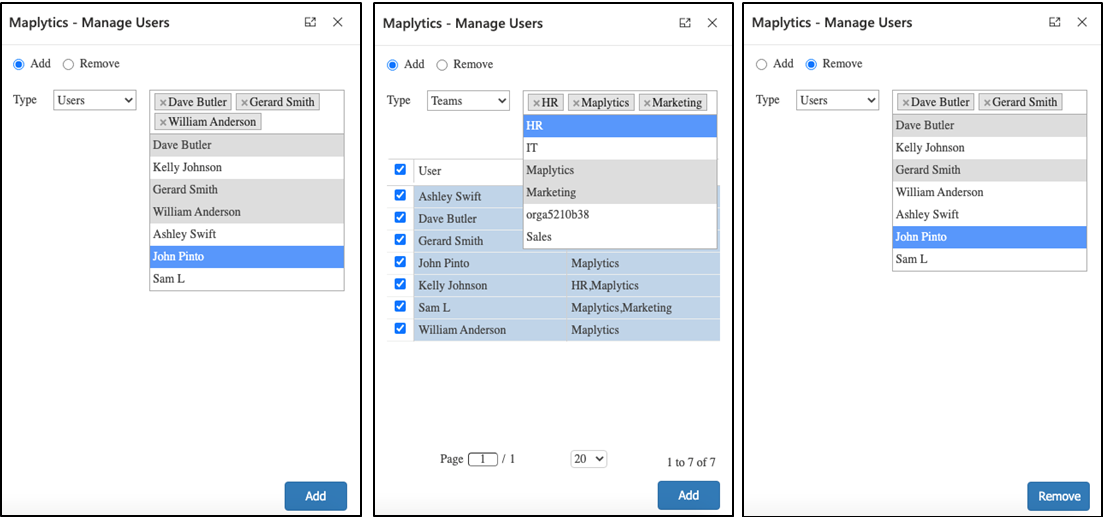 With Manage Users, admins in the organization will be able to manage users as well as teams that have been assigned with a security template. This helps admins to keep track of provisions of Maplytics actions assigned to every Maplytics user. It also ensures that every assigned user is able to use all the required features along with restricting them to use any unrequired features.
In many organizations, top management members like admins and managers require and use all Maplytics features to make informed business decisions, while the other team members only require a few Maplytics actions for their tasks and decisions. Here, Manage Users offers a simple UI that eases the life of admins and managers by allowing or restricting Maplytics actions to multiple users with a few simple clicks.
To be notified about more updates on our upcoming release, keep checking our Maplytics Blog to remain updated. For a walkthrough on the new release features please feel free to contact us at crm@inogic.com