Visualizing Dynamics 365 CRM data on map opens up a wide range of possibilities for its users. With this type of visualization locating leads and clients becomes quite easy and the organization can make informed decisions for their business. To make this visualization in-depth for the users Maplytics (Preferred App on Microsoft AppSource) always comes up with exciting additions to its list of features. In our last release we saw how Maplytics Monitors Check-in and Check-Out of Field Sales & Service Professionals in Dynamics 365 CRM. In its current release Maplytics makes the task of plotting and visualizing data easier on map.
These features will assist manager make better decisions and also enhance field productivity of its users. Let's understand what these features are and how they help in making better decisions:
PCF Control – Detail Map Control for Dataset
This control can be added to any entity or dashboard to visualize all the records of view, sub-grid or dashboard. At the same time user can highlight multiple pushpins at once and apply any user action on them from the ribbon. With detail map control users can perform actions on the record right from the page without switching screens. With Detail map control user can perform these Maplytics features:
Plot entity records
Plot categorized data
Proximity search
POI locations
Routing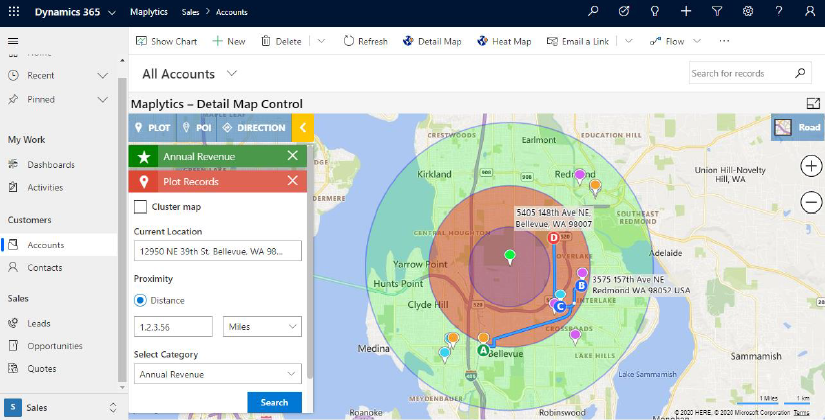 Multiple Categories
In this feature if single entity is plotted then three categories can be selected for that entity. Suppose the user selects account entity, then in this case three categories can be selected for account. Let's say the user selects Annual Revenue, Industry and Owner, then different pushpins will be assigned to different categories. While the data is plotted there will be an overlap of these pushpins for the view.
Truck Routing
While following routes on map the commercial vehicles always have a different path. Since trucks are heavyweight vehicles they may not be the best suited to follow the same route as car because of its height, width and length. Suppose there is speed limitation on a certain route, permit issues due to hazardous materials, road conditions, tolls, etc. In such a scenario it is mandatory to follow an optimized route specifically designed for trucks. With truck routing, trucks can follow best optimized on map and to meet the required day and time for delivery.
Search POI locations with keyword
With Maplytics, the users can also plot Point of Interest locations that help in visualizing nearby POIs. Users can now search nearby POI locations by entering the search criteria in the search bar i.e. earlier POI locations were plotted directly without search criteria by entering keyword but now POI can also be looked for.
Thus you have seen how with our Maplytics April 20 release we have taken visualization and on-field presence a notch further. If you feel you can benefit from any of these features or have any feedback/suggestion, please drop a mail at crm@inogic.com.
Also, download the solution for a free trial of 15 days from Website or Microsoft AppSource.
Till then, Happy Mapping!