The process of upgrading an existing software can be very time consuming and a tedious process. We believe you should use more time using the upgraded software rather than spending time to upgrade it! Keeping this in mind, we have made the process of upgrading Maplytics to the new version effortless! In addition, we have taken great care to make the new solution backward compatible so, everything will work just fine while upgrading to the latest version of Maplytics!
Please follow the below steps to upgrade the solution:
Download the latest release from Maplytics or Inogic website or contact crm@inogic.com for latest solution
Please import the Maplytics Managed solution that was included in the archived file sent to you. Extract the folder, and you will find Managed Solution file as shown below:
Go to Setting  Solution > Click on Import and browse the latest Maplytics solution:
Choose 'Maintain Customizations (recommended)' option as shown below and click on Import:
Once solution is successfully imported, you will see following screen:
Click on Close and Refresh the CRM instance.
Open Maplytics solution and click on Configure to re-configure the Maplytics setting with updated solution as shown below:
On clicking configure you will see Maplytics configuration window, Click on proceed and you will get a dialog box for configuring as shown in the screenshot.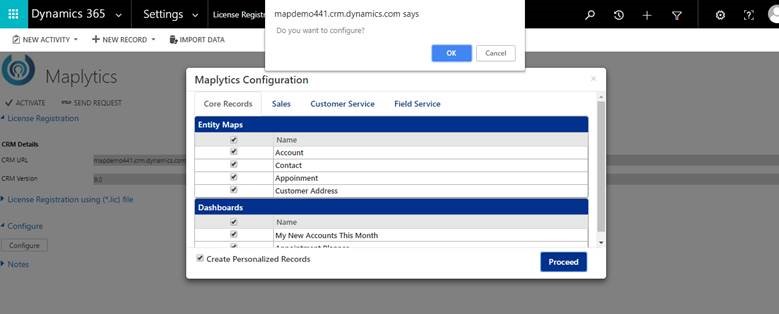 Note: After performing the upgrade, please re-login into Dynamics CRM instance or clear browser cache memory to avoid script loading error.
Voila! You can now use the latest version of Maplytics.