Dynamics 365 CRM and Maplytics (5 star rated Preferred App on Microsoft AppSource) has been assisting businesses around the globe with the best methods for Field Sales and Field Service Management with features like Appointment planning, Route optimization, Advance territory management and much more. In our last post, we explored our new feature to Track Real-Time location and in this post, we will explore the enhanced 'Check-In/Check-Out' feature from our your favourite Geo-Mapping Mobile App.
So, what's new is that till now we were allowing users to only Check-In/Check-Out on record. Now, moving forward we are allowing users to add notes along with the attachments at the time of Check-In/Check-Out. Also, there is a concept of 'Pending Check-In/Check-Out'.
Let's see this feature in brief here. For configuration, refer to our previous check-in/check-out blog. Sales reps visit clients daily and they need to maintain notes or short points regarding the client requirements. With the new exciting features in our May 2021 Release, sales rep can now do so right during check-in. For achieving this, the sales reps need to open the record and add notes in the timeline along with the attachment. Now users can add notes and attachments at the time of Check-In/Check-Out as shown below.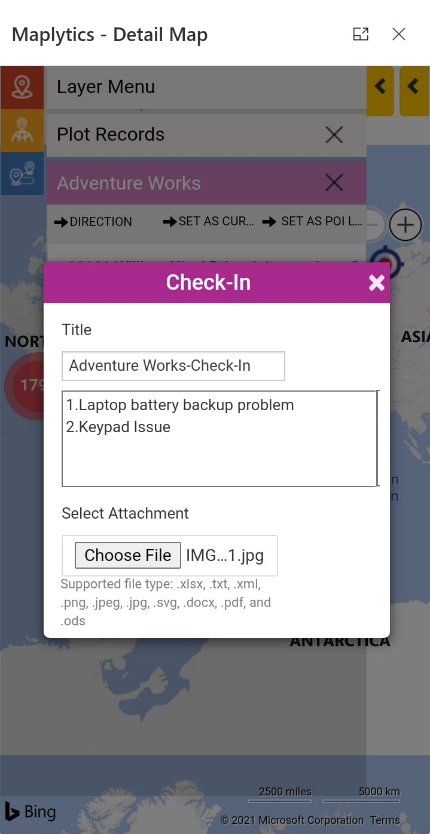 Maplytics provides an enhanced Check-In/Check-Out feature on the web as well as mobile. Suppose, ABD is a service provider company and service providers from that company need to visit the client on daily basis. They also need to list out the requirements and difficulties so during their next visit they ensure they have covered all the pending points. Also, they can attach captured photos or documents given by clients from mobile while check-in/check-out.
Field Reps can see their notes along with the attachment within client's CRM record in Activities Timeline.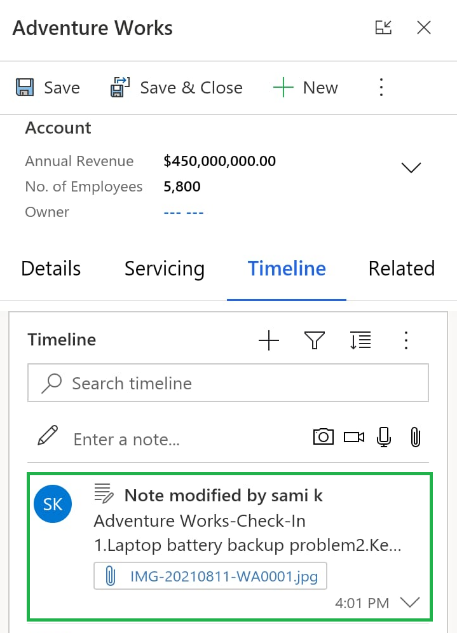 The service provider can also use the above-mentioned feature from the CRM record as well. By clicking on Check-In/Check-Out button from the ribbon button, same window will pop out where the user can add notes and attachments as shown below.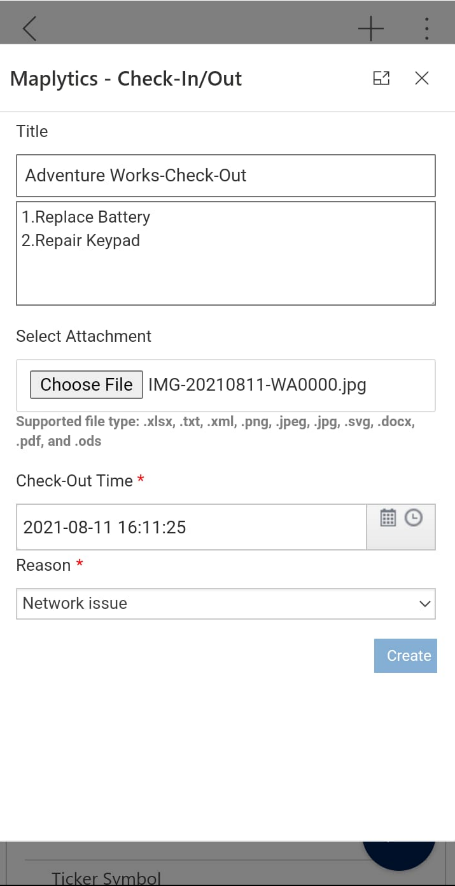 Now let's see the importance of the 'Pending Check-In/Check-Out' feature. Maplytics allows users to create pending check-ins/check-outs so that a manager can approve/reject the pending check-ins/check-outs record and know that you visited the client on the given date and time and the reason why you were not able to meet the client on time. Maplytics provides some generic reasons in 'Reason' dropdown as shown below. Users can add/remove reasons as per their choice.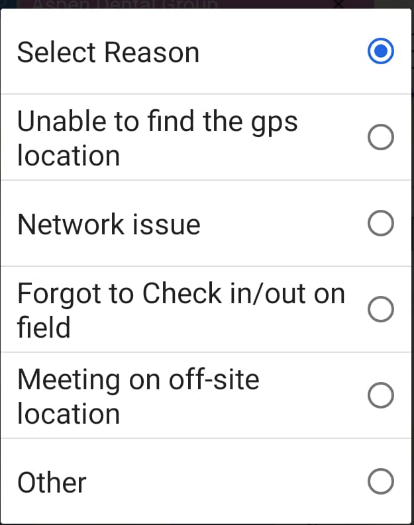 Suppose a Service provider visited a client where they are facing a network issue and are unable to Check-In/Check-Out on-site. Then in this case, they can apply for pending check-in/check-out later. Users can apply for pending check-in/check-out when they are out of the default or geofencing radius.
Note: Only Manager, System Admin, or Maplytics Admin can Approve or Reject the pending check-ins/check-outs of a service provider.
Maplytics provides the view as "My Team's Pending Check-Ins/Check-Outs" where a manager can see the pending check-in/check-out records on a map; grid of their respective team member.
The manager can click on the pending check-in/check-out pushpin and approve/reject it from the tooltip card as shown below.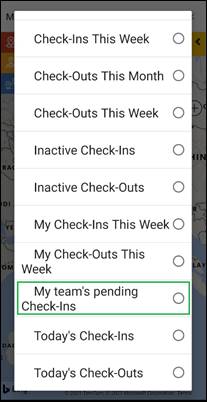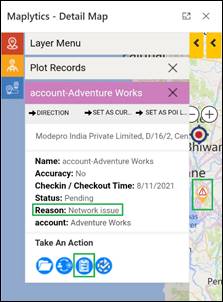 On Maplytics web, the manager can Approve/Reject the Pending Check-In/Check-Out records in bulk from Mass Actions.
Your favourite Maplytics on Microsoft Dynamics 365 Sales Mobile App is helping Field Sales managers and Sales Reps increase their productivity from Mobiles and Tablets as well.
Download Maplytics today from our website or from Microsoft AppSource for a free trial period of 15 days and find out all the benefits yourself.
Don't forget to subscribe to our YouTube Channel and our Inogic Blog for some cool tips and tricks on Dynamics 365 CRM, Power Platform (PowerApps, Power Automate, Power BI, PowerApps Portals) Field Service and much more !