An organization works well when its every process is in sync, thereby meeting the vision of its stakeholders. One of the ways to optimize the way a business performs is by visualizing where its Leads are located on map. This empowers the organizations to back up their plan with a good strategy and simplify the complexity of data analysis. For taking revolutionary decisions backed by powerful insights, the organizations rely on analytical apps to strengthen their market presence.
Maplytics is one such leading geo-analytical app that provides a comprehensive visualization of Dynamics 365 CRM data on map. It gives its users in-depth location analytics to take intuitive decisions and align their businesses in direction of maximum output. Maplytics can be used under various verticals like Sales, Service, Marketing, etc. By its quick routing capability, the reps can stay proactive and comfortably meet their appointments in time.
As we know, by minimizing the configuration time we can utilize the remaining time in better analysis and planning. Thus, in Maplytics configuration we can define default configuration settings that can be used by all users in Maplytics commonly.
We can understand this better with a use-case. Let's consider a company Grapevine Enterprises which has installed Maplytics in Dynamics 365 CRM for its analytical needs. It makes them act quickly and smartly by giving them bird's-eye view of their data on map. Grapevine Enterprises has a large number of Maplytics users who are focused and stay up-to-date with their market trends. Most of them do similar analysis therefore, the admin can set default values for preferences so that they can visualize data similarly on map. The admin can set values for the attributes Map mode, Distance unit, Optimization of route, Zoom Level, etc.
For this the admin needs to go to Settings -> Maplytics configuration details -> Default configuration details record -> Set the desired values -> Click on 'Apply to all.'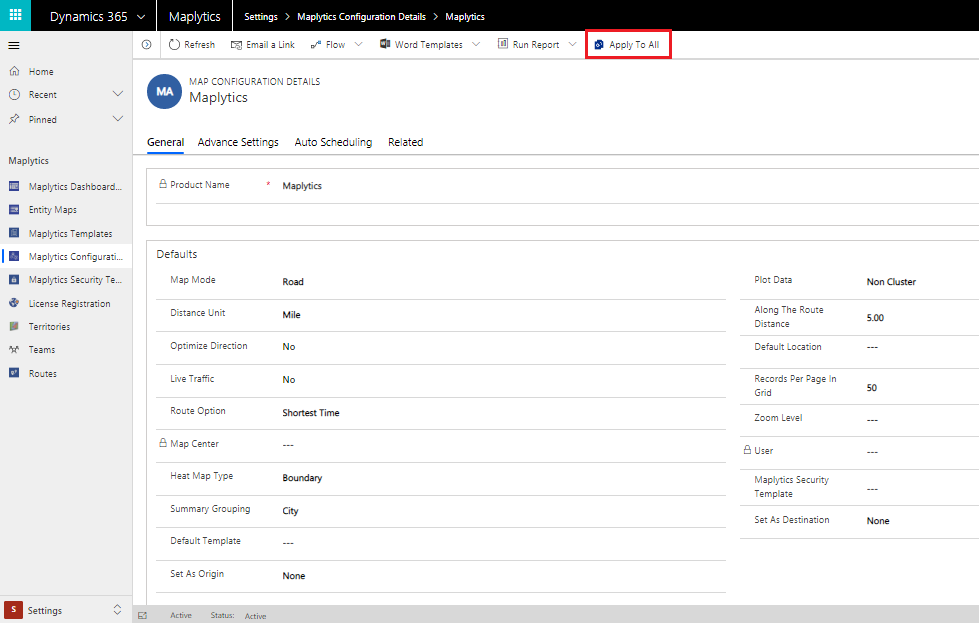 This will replicate the values set in default configuration detail record in all individual user configuration details records. This way, the admin can save time otherwise used in setting default values for the preferences in each user configuration detail record. But, this does not restrict the users to set individual mapping preferences in their configuration detail record. If a user wants to personalize their data visualization on map, they can do it by entering preferred values in their configuration detail record. However, the admin can click on the Apply To All button anytime to replace all the user configuration detail records settings with the default settings entered in the default configuration detail record.
This saves a lot of time by making it easier to set the default configuration settings and also enables all the users to view Dynamics 365 CRM data on map in desired way thus expediting the mapping process considerably. It gives the users the flexibility to go by global settings or personalize their preferences in the configuration.
If you would like to get a demo of how to leverage this functionality of Maplytics you can mail at crm@inogic.com
In case you missed out on this awesome mapping app, you can download it from Website or Microsoft AppSource for a free trial of 15 days.
Wish you a Happy Mapping Experience!