In today's era almost each and every other organization globally is using Dynamics CRM to efficiently manage their customer data. It becomes extremely convenient and secure to access the data over the cloud and device of your choice. Maplytics is one of the essential add-ons that works within Microsoft Dynamics 365 CRM which helps the user to view and analyze Dynamics CRM data geographically to develop new markets and improve efficiency of routes and services. Users can perform many features on their data with Maplytics like Territory management, Auto scheduling , Overlay, Concentric Proximity Search, Along the route etc.
Having the option to perform various actions right through the Detail map makes it much easier for the user to analyze Dynamics 365 CRM data and take necessary actions. There might be Maplytics users from different levels of hierarchy into the organization. In such situations, there might be a need to restrict some Maplytics users from using some of the Maplytics actions.
To help fulfilling this need in our October Release we have added a feature of "Maplytics security template". Using this feature, the System admin and Maplytics admin can provide selective access of Maplytics actions to the Maplytics users. They can select the relevant Mass actions & other actions and provide the access of the same to the required Maplytics users on the map. For this, the users can follow the steps mentioned below:
Go to the Settings > Maplytics > Maplytics Security Templates > New
Select the required actions and save it with a name. This will create a record for Maplytics Security Templates. In the below screenshot, we have created security templates for Field sales and Marketing for an instance.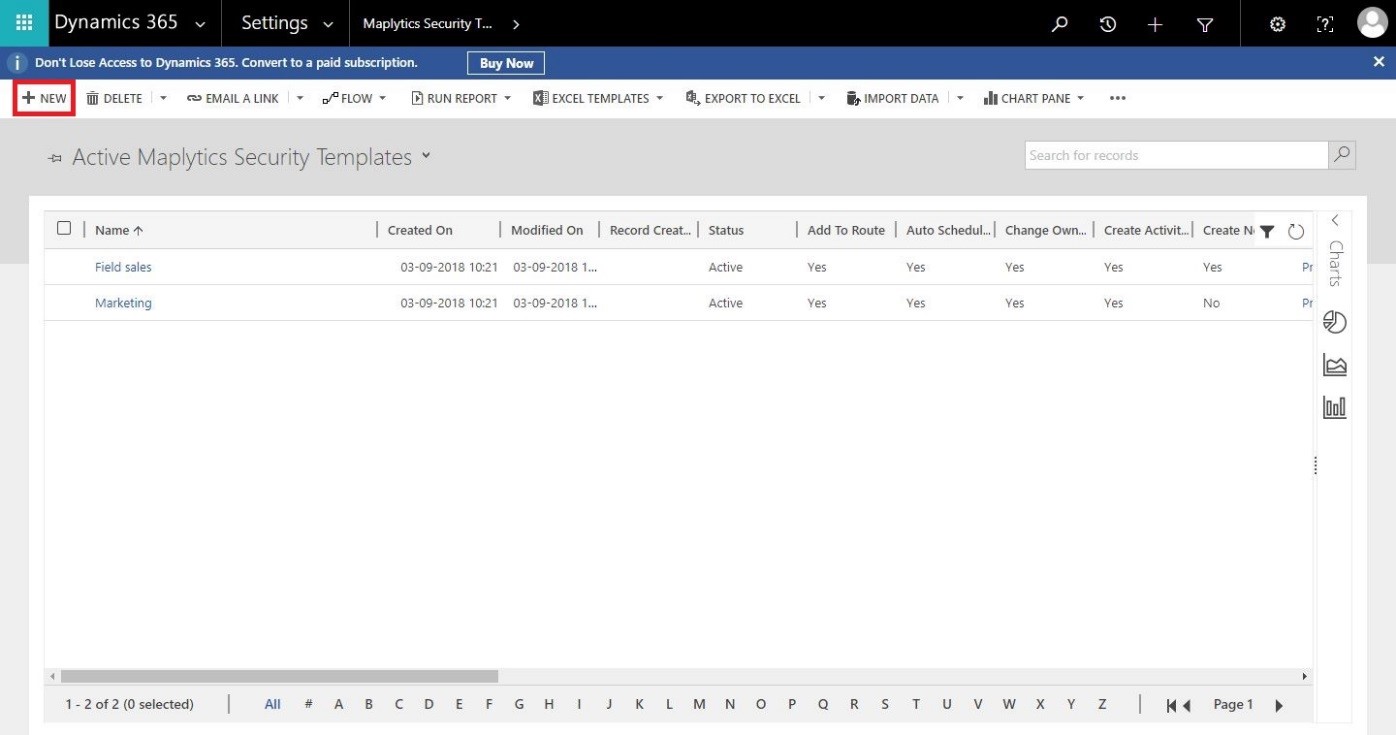 The screenshot below shows three sections of the template as mentioned below:
General
The Admin can provide a name for the template here. We have given the name 'Field sales' here.
Action Configuration
This section contains the list of all the Mass actions and other actions which they can select or deselect so as to create a template with a desired set of actions. Let's say the field sales team needs only those actions that are related to the field and customers. For an instance, we have selected some of the actions and saved this template.
Maplytics Configuration Details
In order to make the selected actions available to the users, this template needs to be assigned to the required users. This section allows the admin to select the Maplytics configuration detail records of those users whom this template is to be assigned.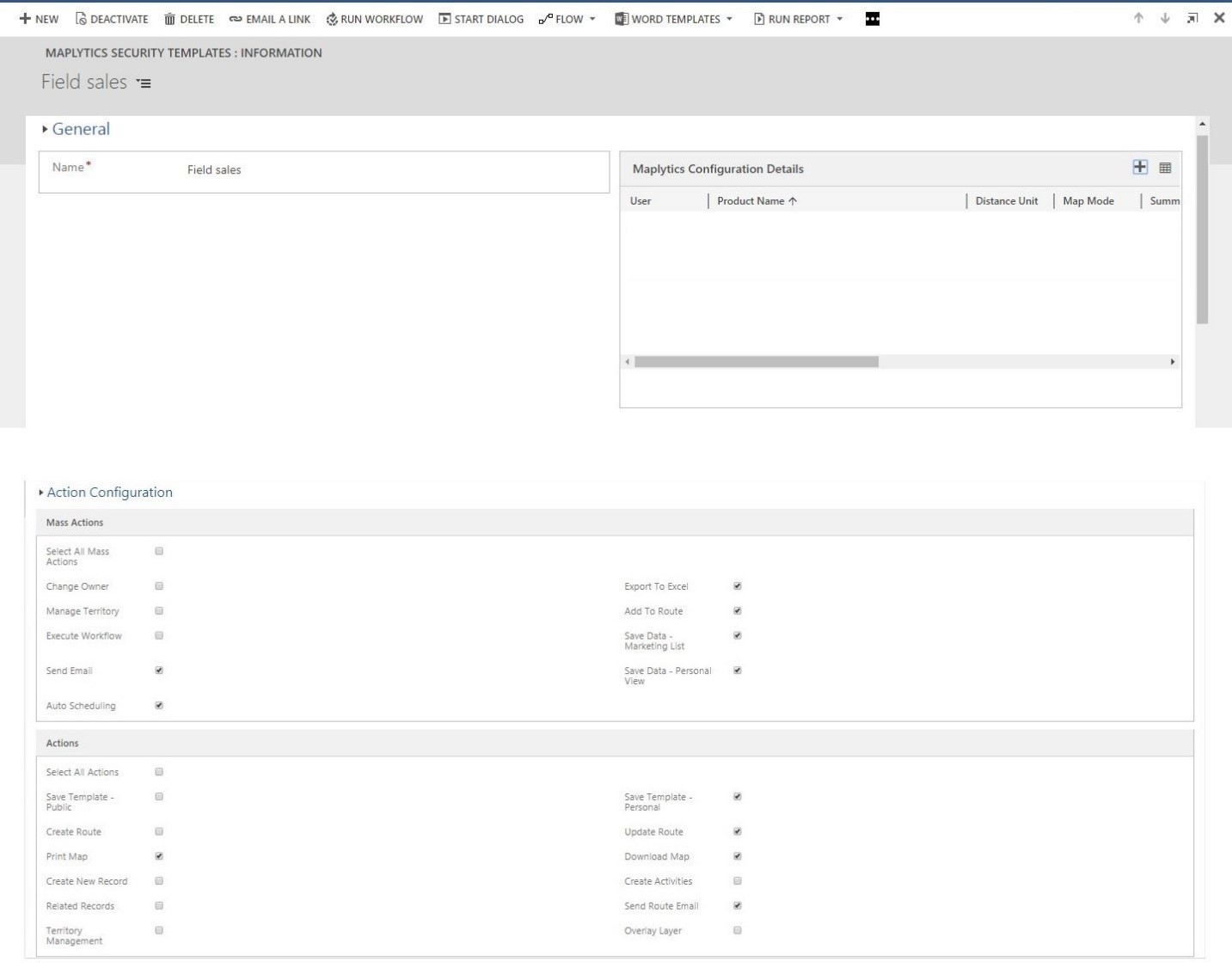 In the screenshot below, this template has been assigned to the Maplytics user "Sam", this means that Sam will be able to perform all of the actions that have been selected in this template.

In case, the admin needs to remove users from the list, the following steps can be followed.
Go to Settings > Maplytics Configuration Details > Select the record of the required user> Remove the lookup value for the field of 'Maplytics Security Templates'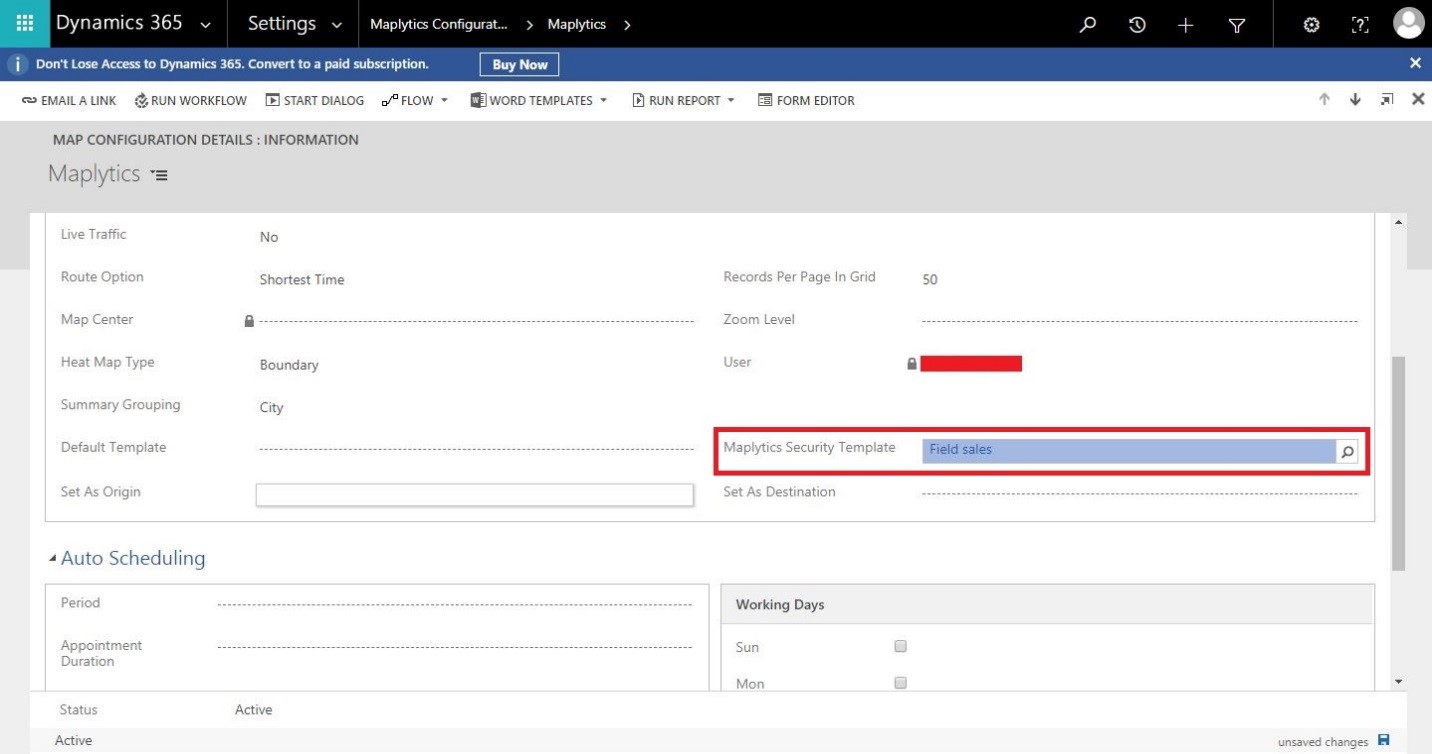 This way, it is very easy to provide selective access to the Maplytics users in order to avoid undesired actions performed. Explore the latest geo-mapping functionalities of Maplytics today. Download free Maplytics trial today! Share your valuable feedback at crm@inogic.com