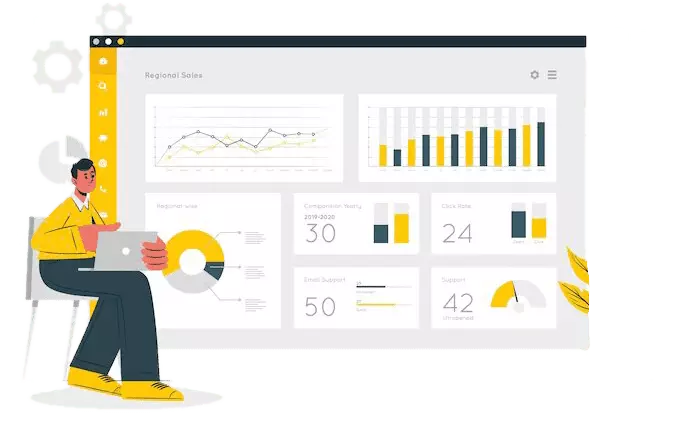 Visualize locational business data on Map, analyzed meticulously
Display of scrutinized data for different users viewed as desired makes understanding and utilization easy
Data Analytics & Visualization on Maps within Dynamics 365 CRM
In the world of modern technology and data-driven business, a visual representation of data especially with Charts, Graphs and Maps helps to analyze the trends that are useful in critical decision-making processes. For MS Dynamics CRM along various business intelligence tools, Maplytics™ is synonymous with a geo-analytical solution for Dynamics CRM users and Managers to visualize and analyze CRM data on a map with personalized pushpins or as PCF controls for records.
Maplytics integrates seamlessly with Dynamics 365 Sales (As well as all versions Dynamics CRM 2013 Online and On-Premise) and aids in evaluating CRM data, discovering geographical spread and density of records. Utilizing the market-leading mapping application Bing Maps and integrating it with Dynamics CRM, Maplytics enables CRM users to visualize and use maps for Dynamics CRM data over various vertical industries like Financial, Distribution Non-Profit, Manufacturing or Transportation.
Some other top of the line features of Maplytics for Management and CEOs are real time Heat Maps Analytics and Census Data Visualization. A use case situation with Heat Maps is that it quickly helps to find the best-performing regions regarding annual revenue and plan a proper sales strategy for any given region. Heat Maps also serve as local trend analytics tools as well as act as the best kind of presentation and representational charts.
Maplytics also supports the generation of multiple Geo-Analytical and Maps Dashboard for Sales, Marketing or Services Team Managers within MS Dynamics CRM. A few of the Use cases involve analyzing Dynamics 365 data in real time on Maps to understand lead and prospect geographical distribution, highest opportunity closing regions or territories over a period. An organization can channelize its focus on areas where it's presence of territories is strong, to monopolize and work on improving the reach in areas, which need attention by realigning its people and material resources. Maplytics empowers a Business to visualize and analyze the locational growth in real time!
Get in Touch With Us And We'll Help Your Business